Elementary Kids at VCC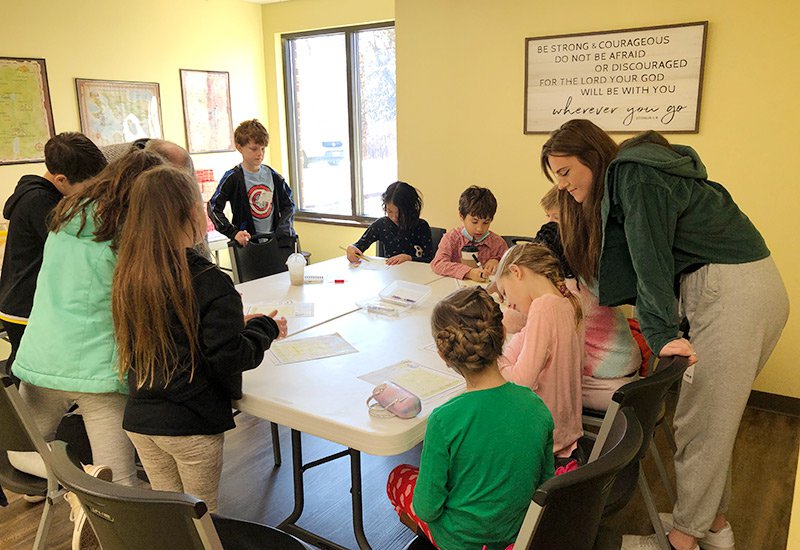 Our elementary classrooms are broken up into two age groups: the K-1st grade classroom and the 2nd -5th grade classroom in order to tailor activities and lesson time specifically to each age group. Each classroom is staffed with a teacher and an assistant ready to love and serve your child. Our elementary kids join together for combined worship and outdoor play, if weather permits.
At the elementary level, our prayer is that each child would recognize they are God's workmanship and dearly loved by Jesus. In these classes, you'll find us learning foundational truths about God and ourselves (through catechism), worshipping together, sharing God stories with one another, praying together and learning Biblical stories and theological principles to apply it to our lives.
We want to reveal God's incredible plan to these kids and invite them to be a part of it! Our weekly lessons help kids and their families connect to God, find their place in His grand redemptive narrative, and respond to Him through the power of the Holy Spirit.
Check-in
When you check your child in any time after 10:15am with our Principal of the Day (or "P.O.D." for short), you will be given a sticker with a 3-digit code. If you are needed during service we will put this code on the screen to notify you (or the P.O.D. will come get you). You'll also need that sticker to pick your child up, so don't lose it! :)
What your child can expect on a Sunday:
Warm up activity or craft
Combined elementary worship
Small-group lesson and response in their separate classes
Combined outdoor play, weather permitting
More information